Boot fitting service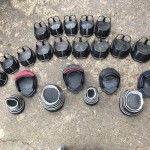 I find boots are a really useful resource for a barefoot horse.  During the transition they can help allow a slightly weaker foot to be comfortable on a firm surface.  Comfortable work on a firm surface is essential to enable the horse to walk out freely and develop the stronger foot that we want.
Post transition boots are also useful – if you're riding over tough ground that your horse's feet aren't conditioned for. They're also helpful if you have arthritic changes going on, or if theres a reason that you wish to protect the joints or soles of your horse's feet.  I recommend that you have a pair in your tack room, even if you only have them for a rainy day'.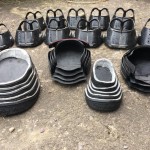 I stock fit kits for three ranges that I find most useful  – Scoot, Equine fusion and Cavallo ranges of boots.  I have:
Equine Fusion regular and slim boots in sizes 7- 16
Cavallo regular and slims size 0 to 6.
Scoots I have sizes 000 through to 8 in regular & 0 to 4 in the slim range
Please get in touch if you'd like a boot fitting consultation.
Share this to...
Follow me on...
---