Paddock Paradise – the start
An exciting day week – the track system/paddock paradise is up and running!! And the horses are on it (and currently boast a one to one overnight to break out ratio…)
Its taken longer than I'd hoped to get the fence up as we had to figure out a way of getting the electricity to the inside of the paddock..  A handy 'pole crossing' has sorted it for the moment..
Heres a diagram of how we've set things up (as per version one)… the electric fence runs around the inside of the paddocks, with the horses between that and the existing fence.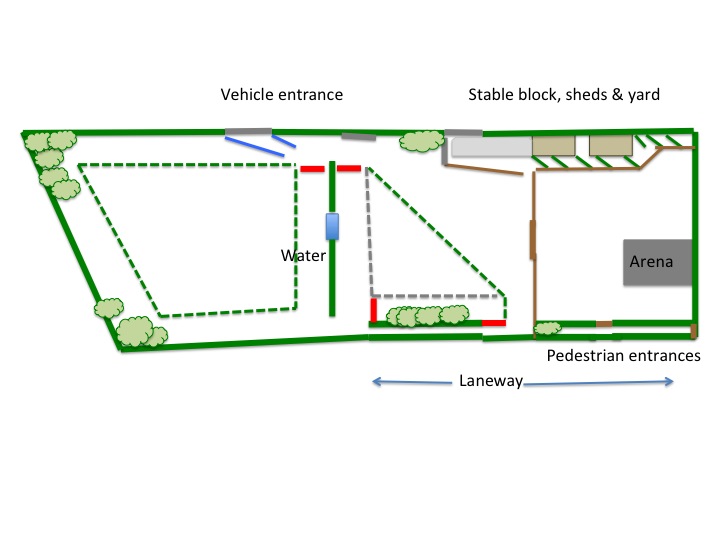 We're still experimenting with how wide it needs to be to encourage the horses to keep moving along the track and spent a lot of time rejigging the fencing so that its easy to let it in or out depending on how wide or narrow we want it.
This (panaromic) photo is taken from the top corner of the middle paddock…(the corner below the  'W' of water in the diagram!)

We're a bit concerned about the steep slopes in the other paddock (right hand side of the diagram) so version two will have a look at creating a chicane down the hill to slow them down and (hopefully) save the land a bit….I know my logo is muddy hooves, but I'd rather that be from hacking out, than from the paddock 😉
A work in progress this winter… all designed to encourage movement, optimise diet & help our horses hooves to be as healthy as possible 😉
Share this to...
Follow me on...