Case Studies
Barefoot Hooves – Case studies
As part of my studies with Equine Podiatry Training Ltd I had to complete a total of 8 case studies; four non-pathological (straight forward) horses, and four pathological (poorly) horses.
For all the case studies, I had to trim the hooves for six months under the supervions of my mentor Sally Bell of www.hoof–help.co.uk.   Heres a look at all of them in turn.. 
Path Case 1.  Underrun heels on an Thoroughbred mare. This mare has remained in work throughout the case study, but she has had boots and pads to make sure that the back of her foot (which is weakened by the under running) isn't overworked/damaged.  This mare has slow hoof growth rate so the changes are taking some time to occur.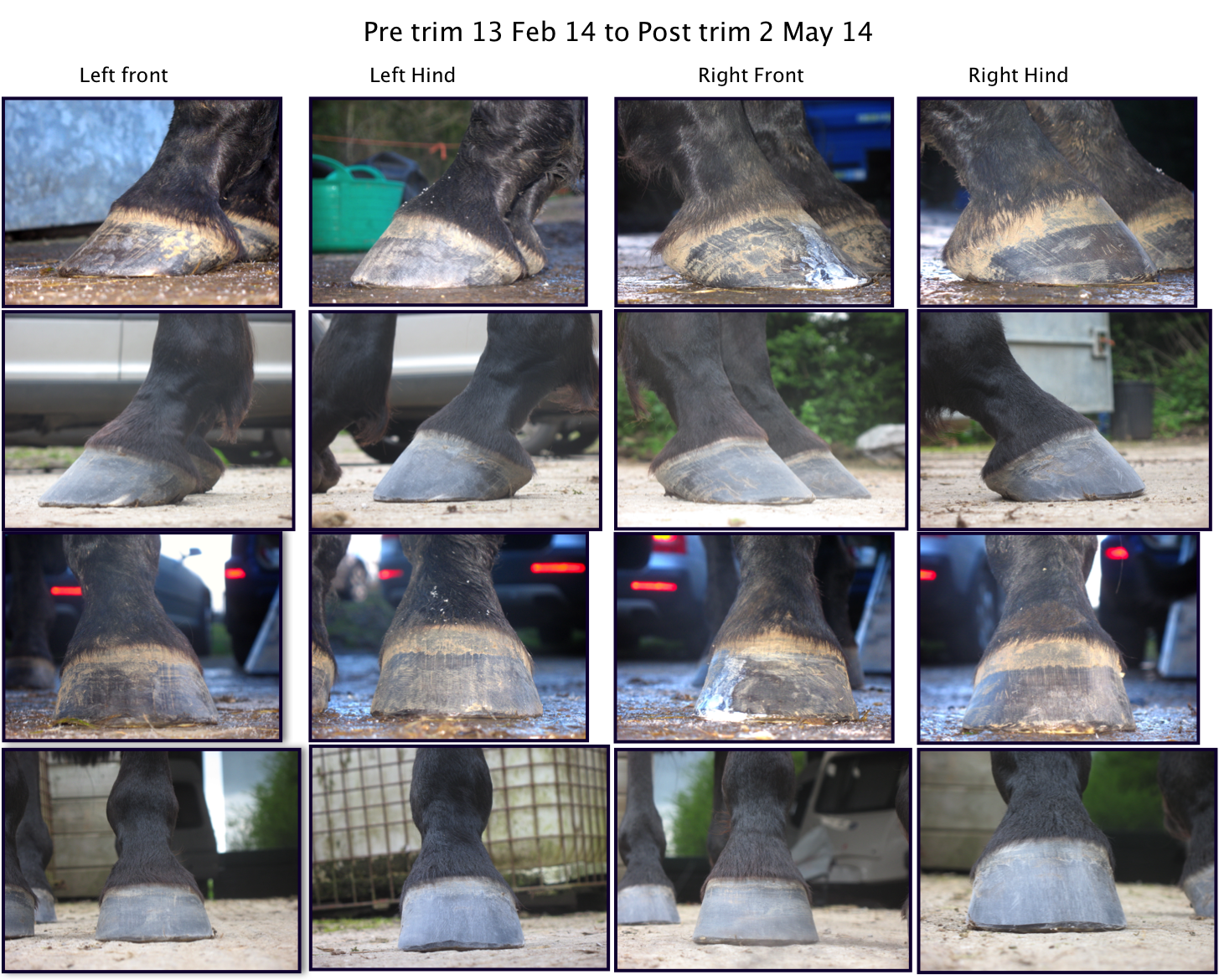 Path Case 2.  Laminitic pony, this lovely chap lives in a herd of Shetlands, the remainder do not suffer laminitis to any degree. but this chap does – he is also pretty adept at breaking out of his paddock, eating too much fresh grass, and suffering for it later.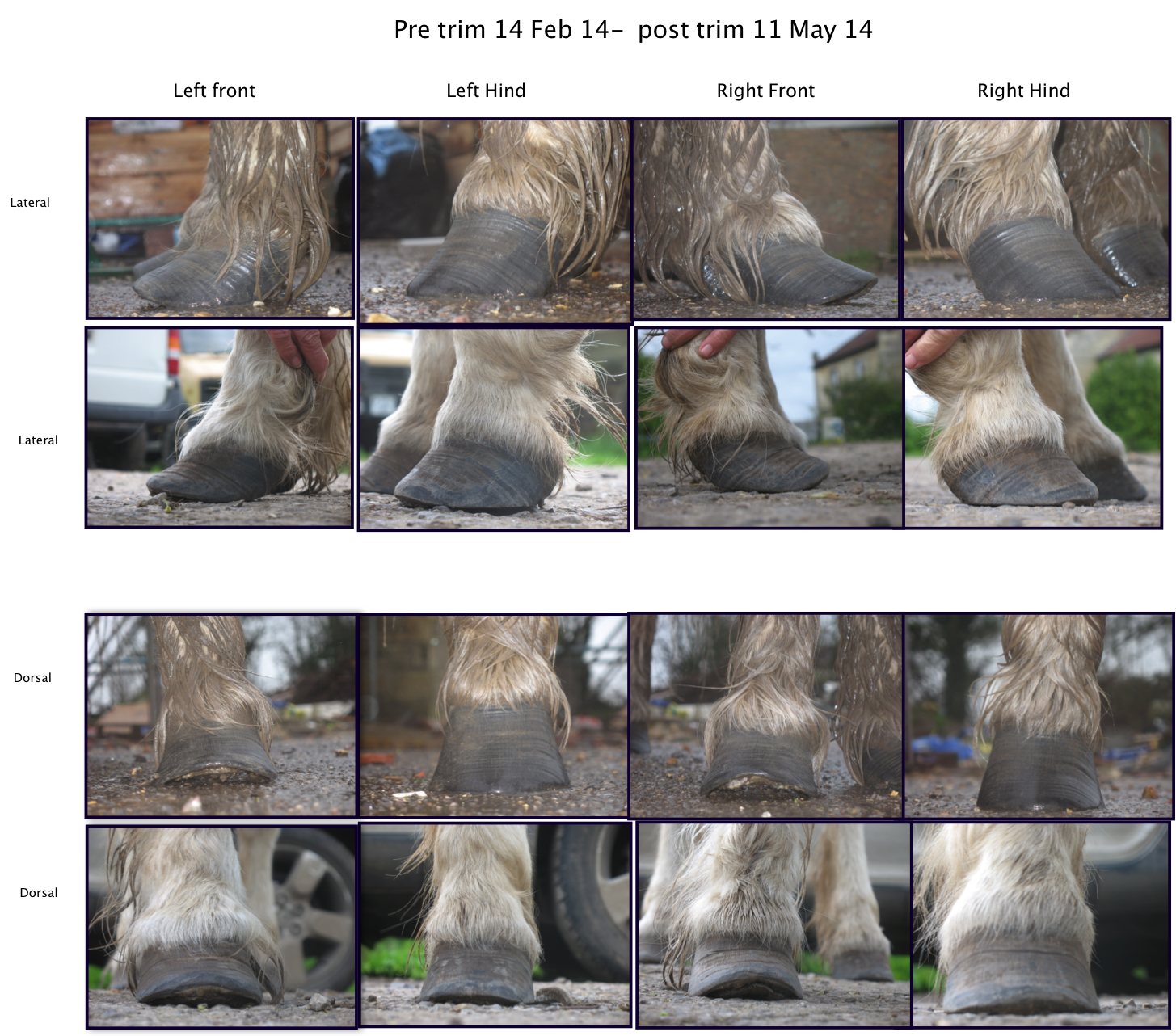 Path Case 3.  Laminitic pony. Like the one above, this pony lives with another shetland and some larger horses, but is the only one that develops laminitic problems.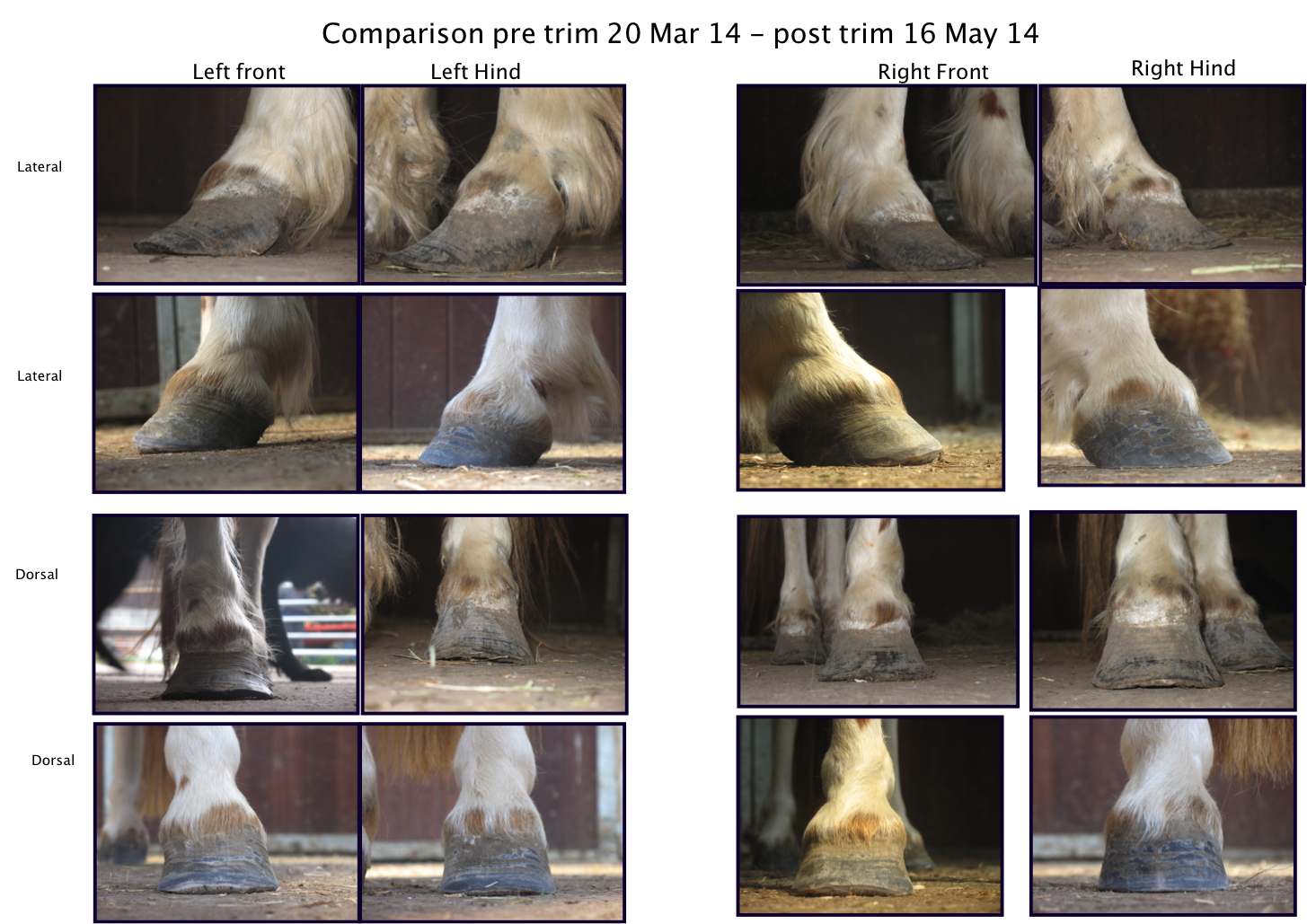 Path Case 4.  Horse with torn flexor tendons and navicular bone sequestrum (which is a fragment that has detached).  This horse has been struggling with lameness for some months and vets have confirmed that she has internal damage to her flexor tendons and a problem with a detached fragment off one of her navicular bones.  By taking the shoes off, and limiting turnout to a few hours in boots/pads we are setting the conditions for the horse to heal itself. Tendon injuries can be slow to heal.  One year later the horse is sound in straight lines and the lameness on a circle has reduced from 5/10 lame to 2/10 and vet has now given all clear for light hacking.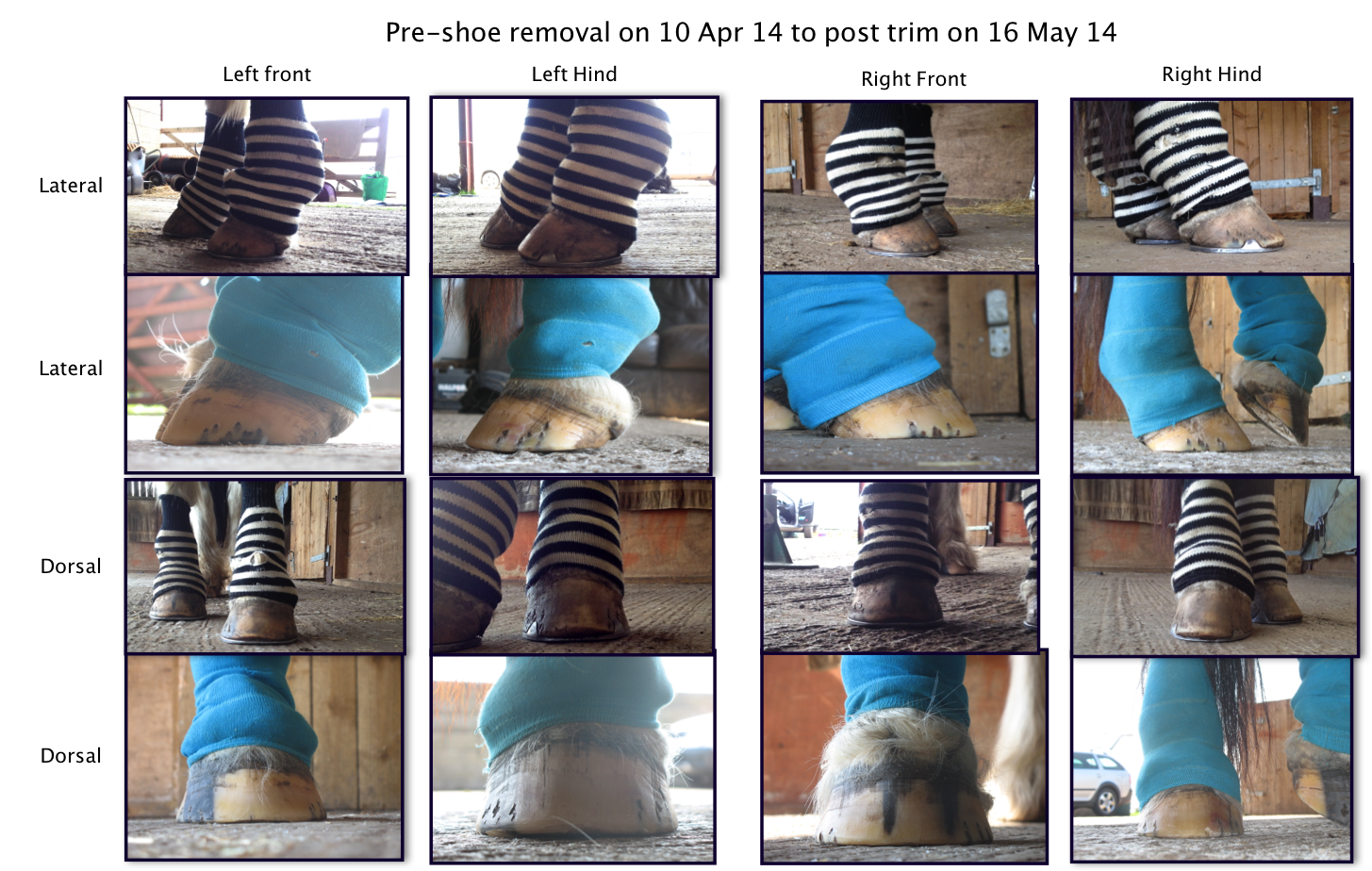 Non-path case 1.  A 15.2 thoroughbred fell cross, who has hardworking barefoot hooves.. she is currently used for dressage and hacking, and does miles of road work a week..  Since her feet are being used daily she doesnt need a lot of trimming at all, just encouraging the wall to grow a little tighter.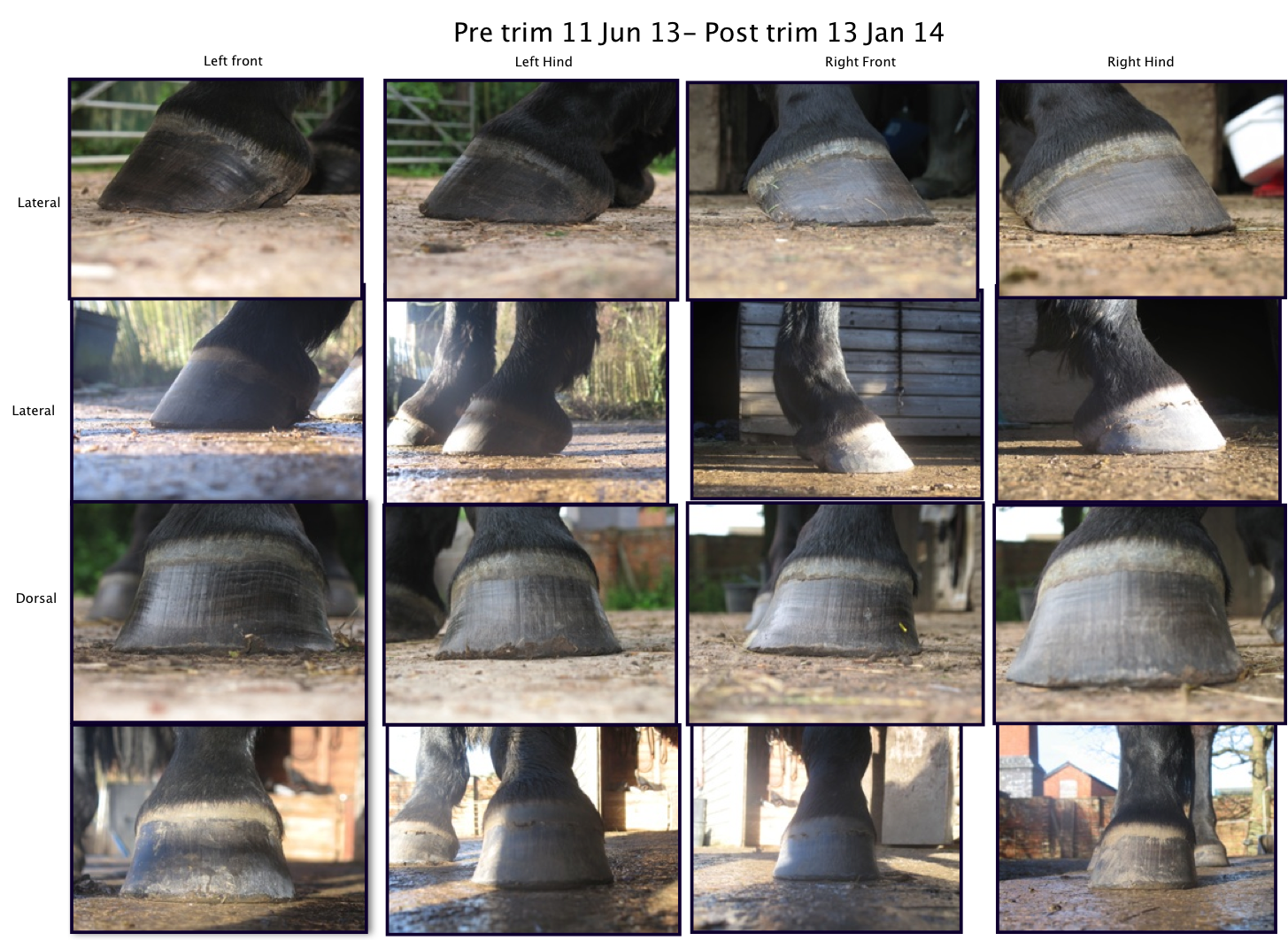 Non-path case 2. This mare,is not in work at all, as she has a foal at foot. Once she's weaned the foal she'll become her owner's main riding horse.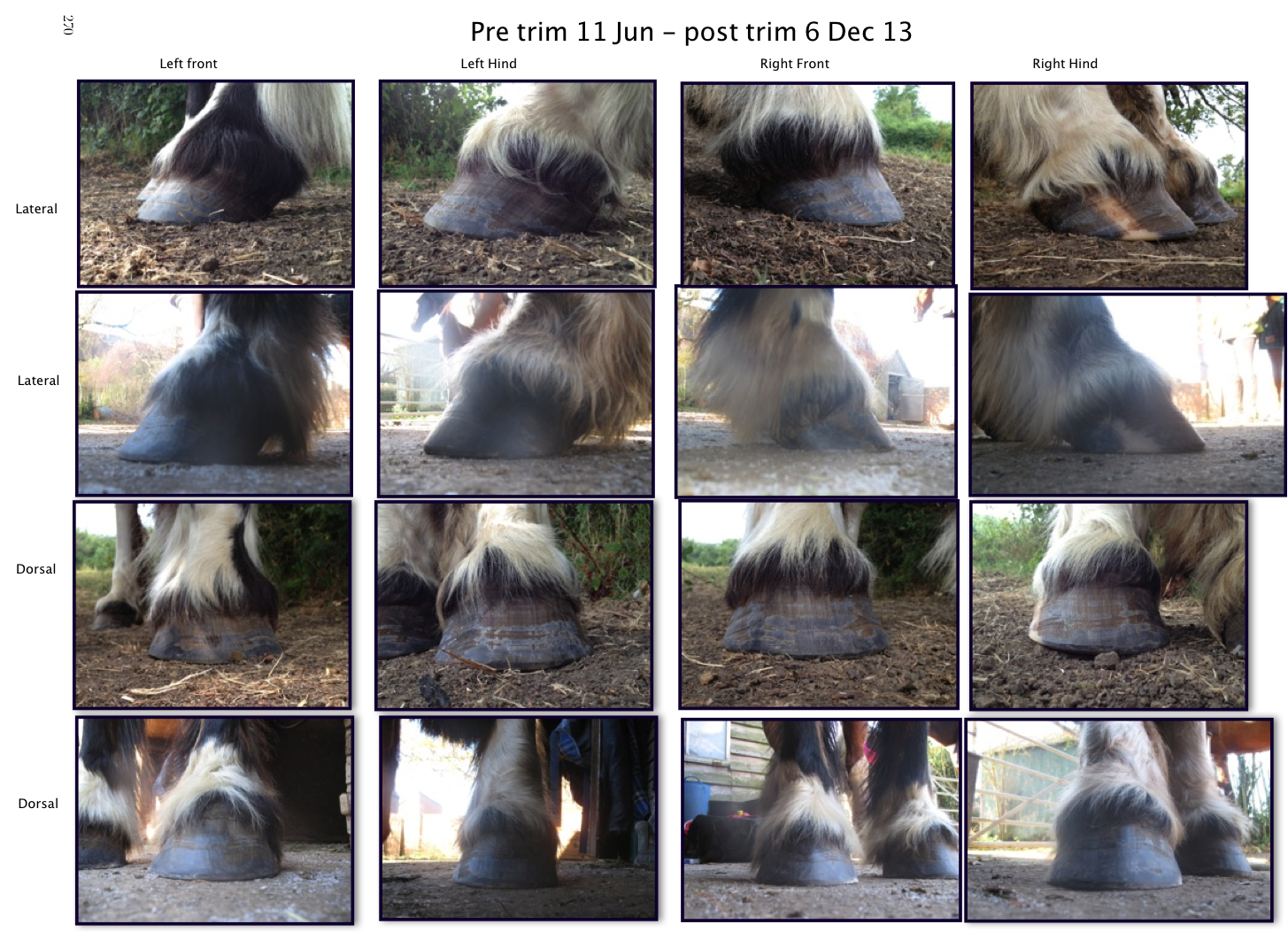 Non-path case 3  This pony is a new forest cross.  He has lovely strong feet, but they do grow very quickly, and in the dry June weather he was developing cracks in the hoof wall.  You may also see that his feet are wanting to move toward a long toe, underrun heel position.  So we're keeping his feet regularly trimmed to counter that.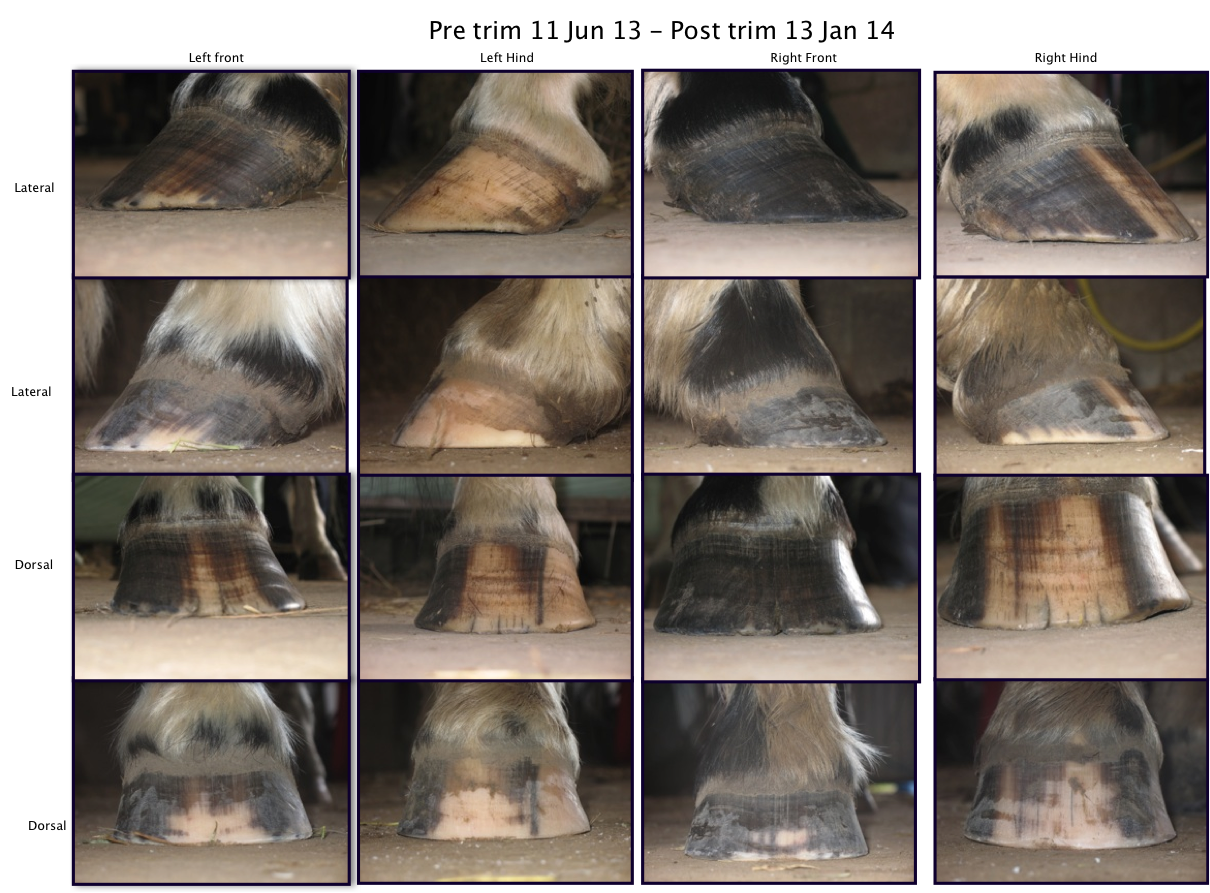 Non-path case 4. This little man is a shetland.  In the past he's had laminitis, so we have to keep a close eye on his signs and symptoms to try and prevent any recurrence.  Heres his foot pics so far…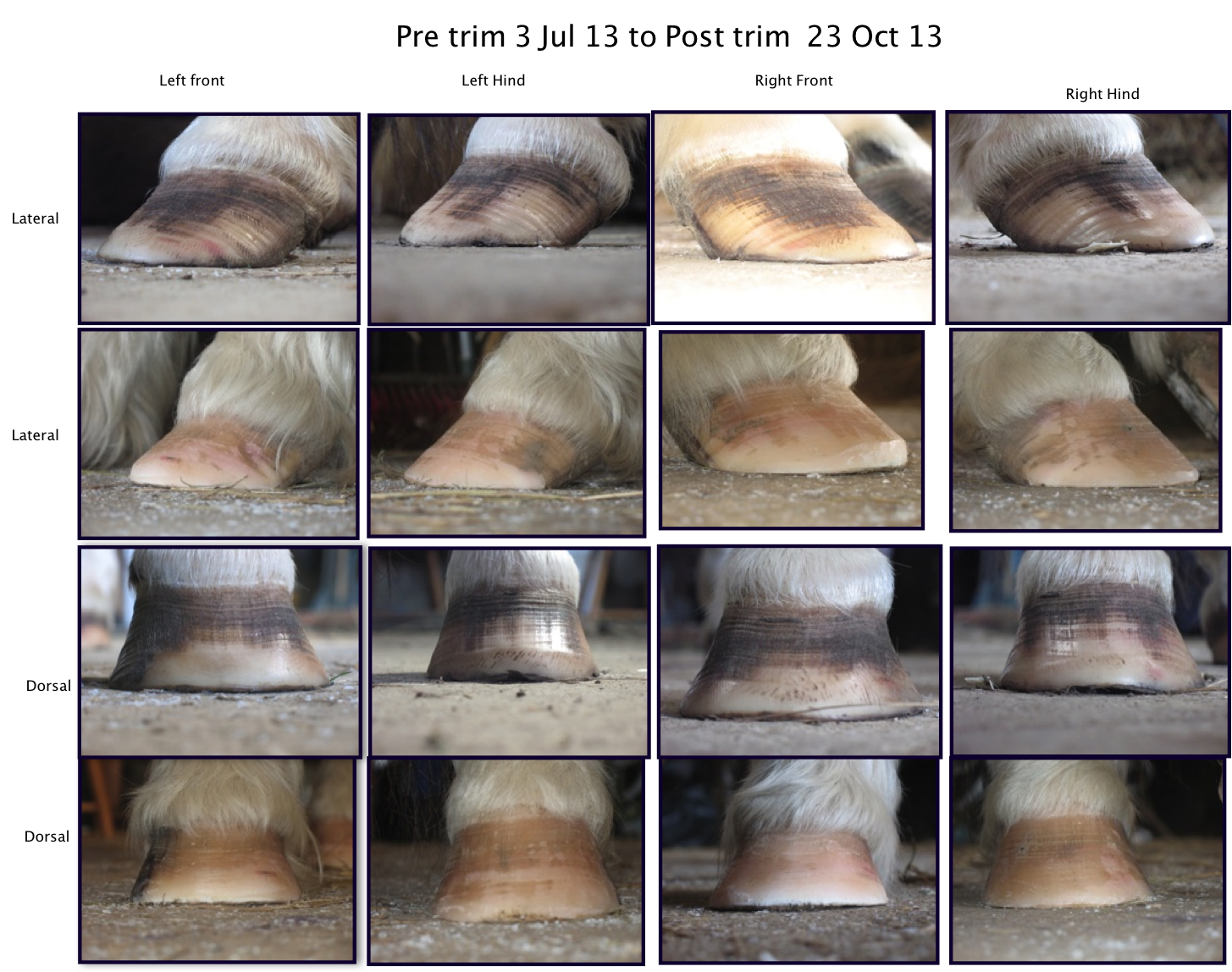 with him, we're again focussing on keeping him as healthy as possible to prevent any further laminitic attacks, you can see from the before photos that his heels are growing faster than his toes which is a sign of those processes…
If you want to understand more – 'the trim' tells you exactly what to expect from one of my consultations..
If you'd like a consultation, please send me your details via my Client enquiry form
Share this to...
Follow me on...
---